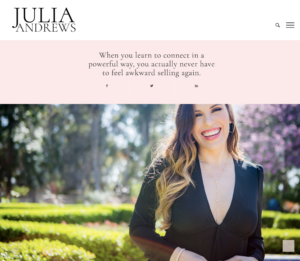 Why we loved working with Julia: 
Julia is everything we love about ambitious women getting things done in the world and in their businesses. She's whip-smart, kind and brings an attitude of service to her clients truly on the journey with them. Sales can get a bad reputation…but we all need sales to stay in business and Julia is an exceptional sales coach and mentor and creating the online home for her work was a tremendous pleasure.
What Julia had to say: 
Working with Cass has been an amazing experience.  Not only was she able to guide me with the infinite programs needed to accomplish my specific online goals but she's incredibly good at taking a vision and executing on it.  My website came to life just as I'd envision it esthetically while ensuring a great user experience.  I'm looking forward to my next phase in my business knowing that Capra will be a partner in my growth. Cass came highly recommended and I have to say, I'm highly recommending her to you!
https://caprastrategy.com/wp-content/uploads/2023/02/CapraWhiteLogo-300x269.png
0
0
Cass McCrory
https://caprastrategy.com/wp-content/uploads/2023/02/CapraWhiteLogo-300x269.png
Cass McCrory
2017-11-10 11:10:29
2017-11-10 11:16:29
Julia Andrews