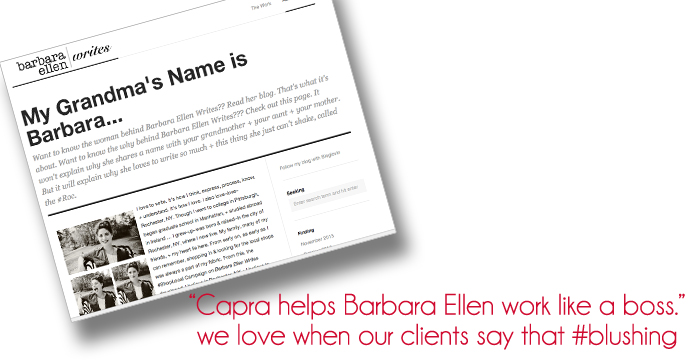 So often we do work with clients and we love the output – this is one of those times that I felt that a hundred times over. Check out Barbara Ellen Writes here.  And hear is what she had to say about working with us:
Cass and Capra Strategy make me competitive. I'm a small writer in a big blogger's world looking to optimize Social Media so that when I do burst onto the scene, every audience knows. No matter how small or large your business, Cass and Capra make it happen.
Within minutes, Cass fulfilled 3 email requests I'd made within a 7 day timeframe to help increase Barbara Ellen Write's visibility and my own productivity. I could not believe the turn-around! Even via email, working with Cass feels like face-to-face, comfy chair, same exact room communication. Because of her resources, I can easily interface between Facebook, Twitter, Bloglovin, and several other Social Media platforms.
Personal and efficient: Cass is an expert strategist, consultant, and motivator. Cass and Capra help me to understand why I am a big ticket player and, most significantly, how to perform like one. My writing, my blog, my Social Media, the #ShopLocal Campaign: Cass and Capra help Barbara Ellen work like a boss.