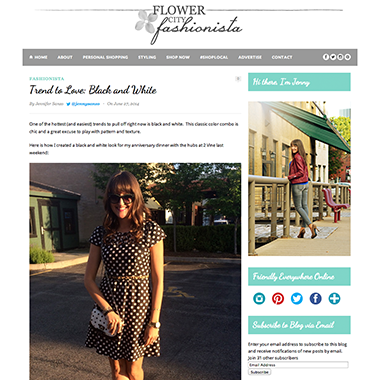 Why we love her: Jenny is the whole package: she's beyond stylish, kind, an amazing mom and the lady keeps things real. We've had her in our personal closets and she takes our presentation up a level in seconds.  As a personal shopper she wow's us with options for every budget and inspiration to step outside of our comfort zones (mixing patterns – this one is a favorite). In the market for a Stylist in the Rochester area she is absolutely THE lady to call.
What Jenny had to say: 
The team at Capra Strategy instantly understood the essence of my brand. I had a vision in my head of what I wanted, but no clue how to get there on my own, and they turned it into reality.
When you say to someone "I want caps, script and a single lilac flower" and end up with exact logo you were envisioning, you know you chose the right team. I love everything about my site and my brand, down to the most minute detail. I find myself referring Capra over and over again to entrepreneurs and small business owners seeking to rebrand, expand their social media presence, or design a new web site. No task is too big or too small, the team tackles everything they do with the same sense of urgency of professionalism.
Whether it be building a site from the ground up, helping me center widget, or designing my business cards, Capra was timely, professional, and got the job done. I can't say enough good things about the Capra Strategy team.
Cass, I'm your customer for life!
Things we've done with Jenny:
The Flower City Fashionista Brand
Brand new Website
Social Branding
Business Cards
Event Promotion
Visit her website or find her online below: